Either one may get cheated a couple of times and then gradually develops skills that help to buy OEM(Original Equipment Manufacturer) iPhone LCD screen, or can read this blog to obtain right piece in the first shot itself.
I am an iPhone LCD Wholesale business owner and sell first source as well as high copy mobile parts of various brands including those for Apple phones.
Hence I know these geeks well which in turn shall help you to single out whether you are reached original iPhone LCD or a fake one from your vendor.
If you are a mobile phone repairing shop and seeking to collaborate with a standard iPhone screen wholesale supplier who offers iPhone screens wholesale at discounted rates, iPhoneLCD is an authentic place. Headquartered at China, it is an iPhone screen wholesale business that already has a huge and satisfied client base spread across multiple countries.
Let's identify Original iPhone LCD Display
I am presenting here 5 tips for the purpose.
Before starting, just know that there are no software tweaks in existence to find out if a particular part of LCD or whole iPhone screen is duplicate.
Scrutinizing os done via inspecting hardware.
Technique 1: Check Apple Logo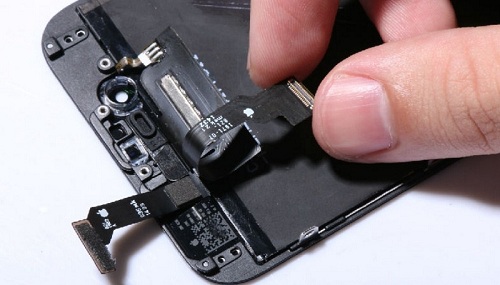 This is a primary mark that differentiates between an OEM and copy iPhone screen, for all models.
It would be attached somewhere around digitizer's flex cable or on LCD screen flex. In addition, logo might also have been affixed on back side of LCD screen, in clean, printed manner. Congratulations if you found them! You are on safe side and will enjoy high-quality mobile display.
Logo signals 100% original iPhone LCD.
Technique 2: Flexible Digitizer's Cable
Keep in mind that this tip is NOT about LCD's flex. Rather we are concerning here on the flex cable of digitizer.
You ought to assess the digitizer's flex cable for it is softer or harder. It should be softer and still does not break even with rough treatment.
Therefore, softer cables are difficult to produce and costly - same characteristics don't come prebuilt with aftermarket copies.
Technique 3: Waterproof Glass coated on iPhone LCD
Technically speaking, hydrophobic glass is affixed on the surface of original LCD. It is a special material that doesn't allow water to stay on screen, it quickly rolls out.
Due to the cost involved, most 3rd party iPhone LCD screen manufacturers can't afford to produce and pack this kind of hydrophobic glass.
They do cater waterproof fabric on top of LCD but it isn't as much effective as hydrophobic material. To reveal it is authentic or dummy, check if little mist is left after rolling out the water on screen. In case answer is 'Yes', this is time for you to ask refund or exchange of well-attested piece that does not leave even an inch of residue water on screen.
Technique 4: Frames Built around real iPhone LCD
This tip is a bit trickier to perform.
No matter the expertise in mimicry, it always leaves behind actual mastery.
Although it is cumbersome to segregate copy and real screen at first eyesight, it reveals when you observe accurately.
Apple supplied, genuine frame assemblies are shinier with smooth brackets without overcoming four axis, this is not case with second hand or any good quality copy frame.
It is as subtle as identifying between truthful and fake currency notes that is derived by touch and feel.
Technique 5: Appearance
Today, in fact, there are so many refurbished iPhone screens circulating in the market that it has become clouded to determine if given iPhone LCD pack is original or not. Since refurbished LCD includes both OEM and echo parts, our decision might go wrong if we stop after applying or two techniques as mentioned above.
Therefore, 5th technique. Test completely, the result must be positive consistently across all tips, otherwise chances of half copy iPhone LCD cannot be neglected.
Well, you operated over it, and found everything affirmative while using iPhone. But still we don't want to judge a book by looking at its cover.
Alike fake one, OEM iPhone LCD screens seem darker. Duplicates tend to reflect gray tint. Non authentic parts don't present smoother trim around four edges.
When copy is uttermost cheap quality, spotting is very easy, as shown in below picture.
Resolution DPI tell the truth.
As a final advise, look for QR code exhibition on back side. In a copy, it will be present but erasable with lightweight rubbing efforts.
I hope I spoke about all relevant topics for which you had inquired.
With 5 techniques described in this blog, you would be able to eradicate fake iPhone LCD screen problem.

If you have any questions, feel free to comment below or contact us by sending email at: [email protected]. We'll reply ASAP.
Related Posts: